YORDAN RADICHKOV
BIOGRAPHY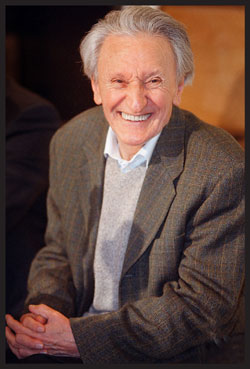 Yordan Radichkov was born in October 24, 1929 in the village of Kalimanitza, Montana region. He graduated a high-school in Berkovitza in 1947. He began his career as Vratsa regional correspondent (1951) for the "Narodna mladezh" (National Youth) newspaper and later on took over editorial duties (1952-1954) in the same newspaper and in "Vecherni novini" (Evening News)(1954-1960), in Bulgarian Cinematography (1960 - 1962), an editor and a member of the editorial staff "Literaturen front" newspaper (Literary front)(1962-1969). He was a counsellor at the Council for development of the spirit values of society at the State council of the Republic of Bulgaria from 1973 to 1986. From 1986 to 1989 he was a vice-chairman of the Union of Bulgarian Writers.
He has begun publishing his impressions, stories and essays since 1949. In 1959, he published his first book of stories "Sarzeto bie za horata"(The Heart Beats for the People). In the next years he published the collections of stories "Prosti rutse" (Simple hands, 1961), "Oburnato nebe"(A Sky Turned Upside Down, 1962), "Planinsko Tsvete"(A Mountain Flower, 1964), "Sharena cherga"(A Many-coloured carpet1964).
In 1965 he published the collection of stories "Svirepo nastroenie" (Severe mood), an unique book with its suggestive digressions. The man of present stays a main character in his following collections of stories - "Vodolei" (Aquarius, 1967), "Koziata brada" (The Goat Beard, 1967), "Pliava i zarno"(Chaff and seed-corn, 1972), "Kak taka"(How come, 1974) etc.
In 1966 he published the novel-travel notes "Neosvetenite dvorove" (Unlit yards). By that novel and by the published in 1968 "Viatarat na spokoistvieto" (Wind of calmness, novelettes) and "Nie, vrabchetata" (We, the sparrows, stories) Yordan Radichkov came out of the literary tradition and imposed his own rules and standards as an author of a new kind. About the same time he wrote scripts for the films "Goreshto pladne" (Hot Noon, 1966) and "Privarzaniat balon" (The Tied Balloon, 1967). At that time again, he wrote the play "Sumatoha" (Bustle, 1967). Radichkov often continued to develop seemingly settled subjects as he transferred already famous characters from story to story and from book to book. This literary device reached its perfection in the novel "Baruten bukvar" (Gunpowder Primer, 1969).
In the 70-ies of the last century Radichkov published his novels "Vsichki I nikoi" (Everyone and no one, 1975) and "Prashka" (Sling, 1977). Then he wrote his dramatic works "January" (1974), "Lazaritsa"(1979) and "Opit za letene"(A Try to Fly, 1979). These plays along with "Sumatoha" (Bustle) have been performed in Austria, Yugoslavia, Germany, Greece, Switzerland, Denmark, Poland, Russia, Hungary, Finland, Czech Republic, United States of America, Romania etc.
In 1984 was published the collection of stories and novelettes "Verbljud" (Camel), and in 1988 came off the press the novel "Noev kovcheg" (Noah's ark). In the last years of his life Radichkov added new strokes to his work as he published the collections: "Hora i svraki" (People and magpies, 1990), "Malki zhabeshki istorii"(Little Frog's Stories, 1994), "Mjure"(Decoy-duck, 1997), "Umivan litseto na Bogoroditsa" (Washing Virgin Mary's Face, 1997)", "Avtostrada"(High-way, 1999) and "Pupavo vreme"(Belly time, 2000) – a book of especial title, an ironic reverence to the past, when in some dialects "pupa" meant a belly and, typically for Radichkov, he transferred the meaning of the word in our modern times, in our "pupa's time". In 2003 was published the book of Radichkov's interviews "Skitashti dumi" (Wandering words).
Yordan Radichkov is a writer, to who rules of fiction lost their traditional role. He was the creating alternatives writer. That is why the interest in his work is so enormous. He was nominated two times for the Nobel Prize for literature. Radichkov' works have been translated in 37 languages and they have been published in 50 countries of the world.
Radichkov has been awarded a wide number of awards, both in Bulgaria and abroad. He is a winner of the prestigious Italian prize Grinzane Cavour 1984) for fiction and of the Swedish national Polar Star Award (1988). In 1996 "Malki zhabeshki istorii" (Little Frog's Stories) won the Hans Christian Andersen award for children's literature of the International council for books for children.
He won in Bulgarian the following awards: great prize for literature "Dobri Chintulov"(1980), the prize "Askeer"(1996) for his lifelong contribution to the development of theatre, a national award for literature "Petko Slaveikov"(1998), great prize for literature of the Sofia University "St. Kliment Ohridski"(2001).
In 2000 Yordan Radichkov was awarded the Order of Stara Planina (the highest order of Bulgaria) Ist class for his contribution to the Bulgarian culture. In 2003 he was awarded also the state prize for culture "Paisii Hilendarski".
The great Bulgarian writer died in Sofia on January 21, 2004.
for more information: http://en.wikipedia.org/wiki/Yordan_Radichkov
"... We, little nations, are like little children – we are delighted at each little gesture of attention that big countries pay to us. We do not know haughtiness and lordliness and do not like them, may be, because we have never ruled over other nations. We believe that each nation, big or small, has its right of own flag and has the right to vote. Our country has a little territory, but through the years people here named each span of earth. Naming the land, Bulgarians this way had converted our home-land. Naming in Bulgaria has considered being a baptism. Man has chosen sunny places, called God's places, in order to convert his land.
We live here, in our land, more than 1000 years and we consider that, when a child has been born in a home, God spreads out his kindness over that home, as he sends in it his angel. During your travel through in the country you will probably meet many parents, who have taken out their angels for a walk and who have come with their angels to the church.
Big Aristotle's way of flying birds passes over us too. Enormous flights of birds come from South to North and from North to South two times a year. In contrast with us, people, they do not push through each other and do not disturb each other. In winter, when the earth is frozen, water-floating birds fly low over the rivers and small reservoirs. These reservoirs evaporate water vapour to sky, water in them do not freeze. People call them tenderly warm reservoirs. Birds alight in these warm reservoirs, in order to rest on their way and to feed themselves. Living under that air way, we can see all the time how God took care about everything, and how nothing in this world can happen without God's benevolence.
… "Welcome to Bulgarian land ". Our land is small in its territory, but our hearts are big and there is always a place in it for every man sent by God.
Yordan Radichkov
"Yordan Radichkov helped the term master to shine again in the Bulgarian literature. We have also many good writers. But masters you can count them on the fingers of your hand. Same as Sali Yashar Radichkov put soul to his works and let them sing on the eternal roads of Bulgaria. They sing from a distance and it is impossible to mistake them with others. Their voice is Bulgarian, Bulgarian are their faces too, we are described there with our children, wives, grandmothers and grandfathers, memories, villages,houses and woodworms, this whole little homeland, this damned, impossible Bulgaria, without which we can not live... Which we abuse all the time, but which we love constantly, and that is the way it will be for ever and ever.
Stanislav Startiev
Excerpt from the short novel "THE BOWLER - HAT"
Yordan Radichkov
TO HIS MAJESTY READER
Before I go on with the Bowler-hat, I would like to share some explanations to his majesty reader.
The question why I have to write about the Bowler-hat, but not for man, arise fairly!
Of course, I also thought about man at first, but the more I learnt about him, the more he was getting old and became colourless. It seems to me that one day he died. The man did not wanted to die at all and in order to protect himself from this unpleasant experience or to put it away from himself at the first chance, he slept very carefully, he ate very carefully, also he was very carefully in conference, he sneezed, traveled and sometimes he expressed himself extremely in a vivid style, in the sense that we bear big responsibilities and we have to be conscious about these responsibilities. But although his vivid style of expression, and although he ate, slept, shaved or reproduced himself, it seems to me that the man died.
And the Bowler-hat stayed!
It did not shave; neither ate, nor sneezed – did not even know the alphabet, and stayed. The world is full of similar injustices. Is it possible that everything around us, which did not suffer, did not eat, did not deliver speeches and did not bear responsibilities, will stay, and we will not stay. The why we have been creeping on the rough surface of life! Is it just left a hillock, just one overgrown with grass similarity of a bowler-hat and with "Hats down!" to end our earthly way? Have we ever thought sometimes that at the end of our lives we turn to our hats again and the hats are the ones, which pay tribute to us?
But let's go on!
The Bowler-hat in question came to Bulgaria thanks to one Bulgarian. During his visit to Italy in the World War II the Bulgarian bought the Bowler-hat, because only a stupid man would enter Italy, without going out of it without a bowler-hat. Italy was at that time a nice place. Mussolini has not started yet sewing seeds in town parks and thrashing it on the squares of Rome.
The Bowler-hat was "Borsallino" and we have to notice, that then it was the Mount Everest of the bowler-hats (Europeans called the Mount Everest the highest peak in the world, Chomolungma; it has not been climbed by Tensing and Hillary yet and engulfed many expeditions in its glaciers). Italians kept the secret about the way the material for the producing of bowler-hats was made, that is why their bowler-hats were the lightest in the world.
Progressive and civilized countries opposed to the bowler-hat, the top hat made desperate attempts to stay and although its resistance it confined itself to the sphere of diplomacy. When they shot the Serbian king in the cab, the bowler-hat first hid the fear on the monarch's face, because the face of a king must be smiling, or manly, or noble, but never - frightened. The Bowler-hat spread gradually in Europe, threw into Danube Wallachian and Magyar felt hats, supplanted on North the perky Tyrol hat and made its way even into the British island, as it captured there the Englishmen to their great surprise. British people continued to smoke pipes at the fireplaces and to read Dickens and they accepted the bowler-hat with the smile of Mona Lisa, began to take it for a drive with their famous Rolls-Roices and they accepted the fact that with the same smile they also proved that Britain is a parliamentary state.
A, exactly at that time, when the one half of the Earth was under the shadow of the bowler-hat, and the other half was under the shadow of the iron soldier helmet, our Bulgarian bought The Bowler-hat in question from Italy, before he started on a journey to his homeland.